Deceased from 1998-2015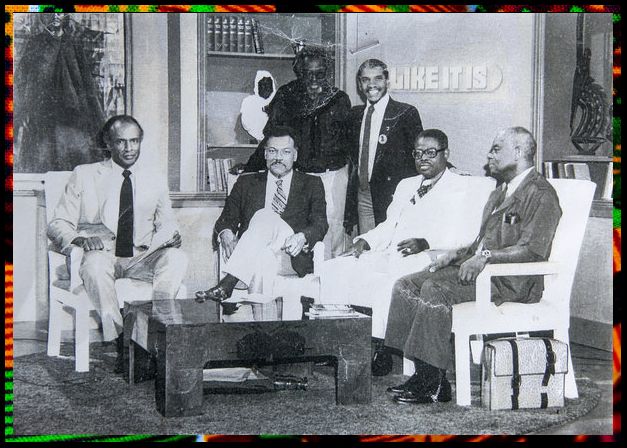 Seated, from left, Gil Noble, host of the public affairs television program,
"Like It Is," with Ivan Van Sertima, Yosef Ben-Jochannan and John Henrik Clarke.
The Journal of African Civilizations Ltd., Inc.

— Limited Editions!
www.journalofafricancivilizations.com
Dr. Ivan G. Van Sertima, Prof. Emeritus
Award winning Editor, Founder, Author, Linguist, Anthropologist
Shop Online for Black History Month. Study year round!!!
Huge Rewards:
History is never outdated

History informs us of our past and future

Garners respect for one's knowledge by teachers, professors and peers

Engenders pride

Clarifies one's future goals

Sparks meaningful conversation

Frees us from the hustle and bustle of everyday life

Positively impacts our lives for minimal expense

If requested, we will appropriately gift wrap and box for minimal expense of $5

(tissue, gift tag, ribbon and African-centered bookmark per gift included)
If you would like for us to gift wrap your order(s):

After choosing your order(s) from our Books Page, and eventually arriving at the Check Out page, you will have the opportunity to check the one of the Gift Wrap options which is located under the ribbon. After making your choice, be sure to check

UPDATE

at the bottom of the page to complete your order. Otherwise it will be sent blank for you to personalize.

You may also visit our African-Centered Bookmarks page to choose the bookmark(s) that you would like to accompany your gift(s). Do not include payment for bookmarks! They are free of charge with this special gift offer. Just let us know the item number (#) of the bookmark(s) you have chosen. Email this information to us at

thejac@optonline.net. On the subject line of your email, enter BOOKMARK CHOICE(S).

If you would like for us to print the name of your recipient on your free gift tag(s), let us know the name(s) you would like for us to print. Otherwise, it will be sent black for you to personalize.

The limit of your order

must not exceed 5 copies of any one title

, and the order will be sent only to the person who is submitting the order. Gifts will be gift wrapped only upon request. The fee for gift wrapping is $5.00 per gift; that will include box, tissue, and beautifully appropriate wrapping paper and ribbon design for an African-centered gift.
THIS BLACK HISTORY MONTH SPECIAL EXPIRES ON FEBRUARY 29TH, 2016.

ORDERS MADE OUTSIDE OF THIS BLACK HISTORY MONTH SPECIAL WILL ALSO BE FILLED YEAR ROUND FOR ALL OTHER SPECIAL HOLIDAYS. ALL MAJOR CREDIT CARDS ARE ACCEPTED. (VISA, MASTER CARD, DISCOVER AND AMERICAN EXPRESS)

Please note: When choosing the least expensive postal carrier for your order, Media Mail and UPS Ground are the least expensive sources, but when choosing either of your options, do to take into account that you must order by Saturdsay, February 20th in order to ensure the delivery of your order before February 29th.